Light-activated Office-Bleaching
We offer the two most recognized and widely used whitening system in the world: Zoom® and Nitewhite®.
Whatever your needs are, we have an whitening system that's right for you.
And don't you worry. This bleaching system is not harmful as we apply the correct professional techniques and use scientifically proven materials only.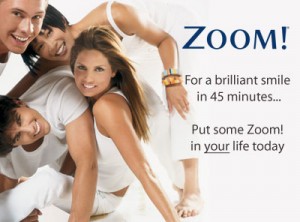 Our in-office system Zoom2 AP is the perfect solution when you desire immediate results within 60 minutes only! Clinical studies prove this advanced technology will whiten teeth an average of eight shades in just one office visit
Being convinced of our reliable and clearly visible instant tooth bleaching results we are able to offer a unique money-back guarantee ( which has never been requested...)